workshops - Location Painting Workshop Mt. Shasta!
Discover the secrets of painting in this two-day weekend workshop. You will be amazed by the facts and breakthroughs you will experience in your art.
Workshops are held at every level of experience.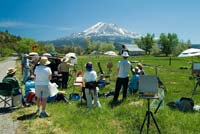 Come join Stefan Baumann, the host of the PBS series
THE GRANDVIEW, for a weekend of painting in beautiful Mt. Shasta at The Grand View Ranch. Discover the secrets of painting hidden lakes, vast meadows, grand trees, sunsets, and the famous Mt. Shasta summit herself. In the evening, we always conclude by critiquing all the paintings that were done that day which is a great learning experience. You will learn Baumann's philosophies on painting, composition, color, value, and many helpful hints about plein air painting. Stefan will also discuss "The Power To Create" which includes his views on art, and his experiences behind the scenes of his popular television series. He is committed to making sure that all attendees will leave with valuable and useful insights.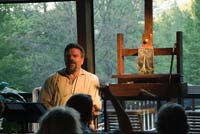 With Stefan Baumann Workshops, you will be able to create measurable and lasting changes in your art. His workshops contain a step-by-step process that will help you identify how to paint outdoors, and how to break through barriers to take action and transform your painting. Baumann's workshops are delivered with incredible passion, power, and playfulness. The process becomes not only moving but also enjoyable.
In Baumann's workshops, he will personally coach you as you begin to implement the proven strategies and tools for achieving the results you want and deserve, faster than you may have ever imagined possible!
Tuition $350
Tuition includes two days of painting outdoors with demonstrations by Baumann on the secrets of painting on location. On Saturday, after enjoying a great dinner at The Grand View Ranch, Stefan will critique students' art work from 7- 9pm. The tuition includes a boxed lunch on Saturday, lunch on Sunday, and the Saturday night dinner. Tuition does not include lodging and participants are required to find their own accommodations.
Deposit of $150 (non-refundable) is required to reserve your space in this workshop. Space is limited, and there is a "first come, first served" basis.
Deposit of $75 is required in advance for food for spouses and friends who are not painting, but want to eat at the Grand View ranch.
Make checks payable to Stefan Baumann and mail to:
The Grand View
C/O Kris Baxter
507 Lennon Street,
Mount Shasta, CA 96067

Payment can be made by credit card by calling
The Grand View Ranch at 415-606-9074.
The Grand View Ranch
1511 Maple Drive
Hammond Ranch
CA 96094
Phone Toll Free 1-800-511-1337
Email: baumann@thegrandview.org